With the pandemic under control and spring in the air with blooming flowers, the Grade 1 students at SUIS Pudong finally had their long-awaited family sports day in the dazzling sunshine. The event kicked off with a speech by Principal Jenny Chen.
Immediately afterwards, the SUIS Pudong children started the warm-up activities with a powerful martial arts performance, which set the tone for an exciting day.
The playground was abuzz with excitement and enthusiasm at the start of an exciting sports day.
The Little Painters
Five classes, over a dozen teachers, and more than a hundred children came together at the SUIS Pudong campus to grow and learn. The teachers said, "Let us hold your little hands and take you on a journey of childhood memories, painting a colorful canvas of time." Look! I love my SUIS campus and I love my class! It's our second home!
Race of The Tortoise and The Hare
With our families by our side, no matter how far we have to go, as long as we hold onto our dreams and work together, shoulder to shoulder, undeterred by mockery or even covered in mud, we will ultimately become that superhero.
Super Soccer
The real charm of soccer lies not in winning or losing, but in the people who play with you. We ran, laughed, sweated, and cried together, sang and hugged together.
Directional Treasure Hunt
No matter how difficult the challenge, fear of it is worse than the challenge itself. May you always have the determination to never give up.
Inflatable Ladder
Although we may be small in size, we bravely built a ladder, section by section. Our freedom to move between clouds relies on our solidarity and cohesion!
Rag Pulling
Looking up at the starry sky, our hearts are filled with a sense of longing for the distant future. Every step we take and every effort we make is aimed towards realizing our dreams and aspirations.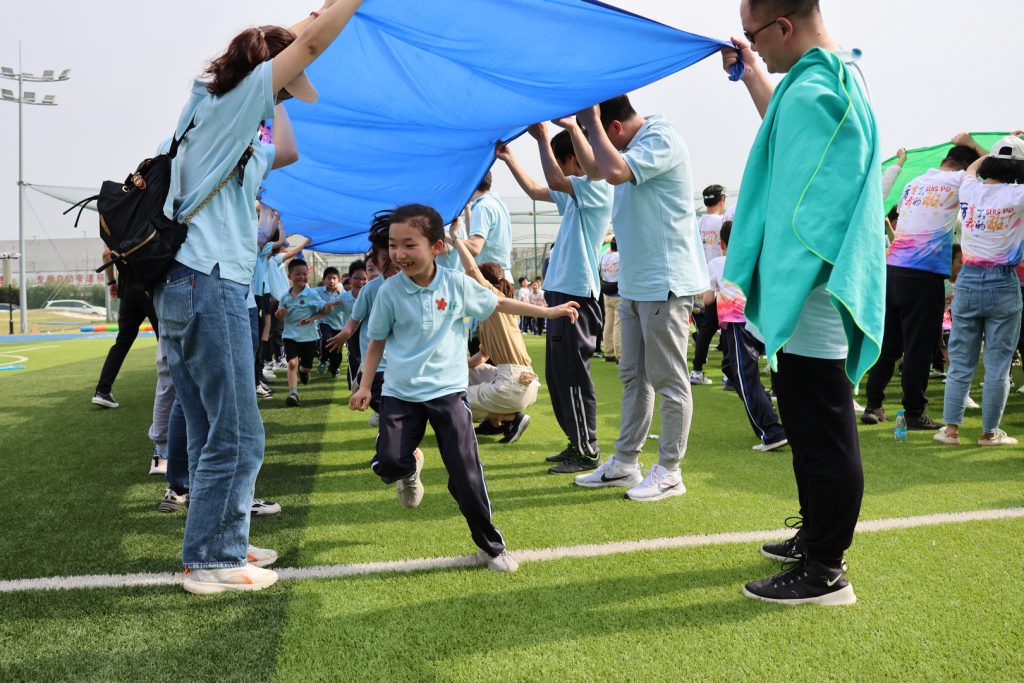 Tug of War Competition
This was the only sport where victory is achieved through retreating. With retreat comes advancement, and success is achieved through accumulated effort. Our parents and friends, with one heart and one mind, moved in unison and cooperated with each other. Every match was a perfect reflection of strength and technique, radiating a dazzling light of extraordinary power and strength!
This Sports Day activity has taught us, the students of SUIS Pudong, to cooperate with our partners, teachers and families, and to have the correct attitude towards winning and losing. It has also helped us find the most harmonious way to treat our physical and mental health; the happiest and simplest way to collect the small moments of happiness with our families.