In April, in such agreeable weather, an online art festival was held with the joint efforts of the teachers and students, in order to further enrich students' online learning and cultivate students' abilities to appreciate art.
LSS Online Talent Show
On April 29 and May 4 came the very anticipated Talent Show. In the Tencent meeting room, all the teachers and students watched the live-streamed performances with some pre-recorded, which received widespread recognition.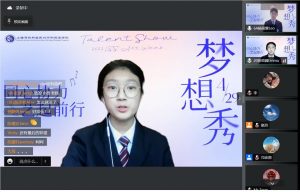 《起风了》7D尤婕妮 吴熙然
《"花、太阳、彩虹、你"》7C杨雨霏、7D常诗雯
《网课生活》8年级 张尧、陈昱曦、孙中升等人
《Wake》7C班级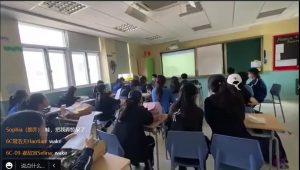 《永远相信光》6A杨玺霖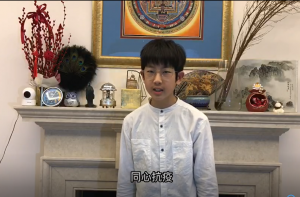 《生活总该迎着光亮》6D张叶艺丹
《天方夜谭》6D 刘梓航 于谦之
《孤勇者》6A杨玺霖、宋思澄 6C郝欣宜
《堂吉柯德梦幻女变奏》8C李子涵
《钢琴曲串烧》6C周婧越
《Queendom》舞与伦比社团
钢琴+爵士鼓合奏:《Paris》 6B高熙雯Celine、王卿焱Emma
拉丁舞表演:《舞动心扉》7A王悦辰Alyssa
手指滑板展示:《指板少年》8A杜庚晓George 8B赵文灿Harry
古筝独奏:《战台风》7B梁欣知Cindy
钢琴弹唱:《Apologize》7A蔡昕纯Cici
钢琴独奏:《克罗地亚狂想曲》6B王昭元Zara
长笛独奏:W.A.Mozart Flute Concerto in D major 8C李伊昀Evian
During the lockdown, it is extremely difficult to perform in front of an audience. Through the joint efforts of the teachers, students, and parents, great performances were put on, making the most of online technology. Let's enjoy some of the wonderful performances of the students.
Thank you all for your active participation. Meanwhile, this whole project would have not been possible without the support of Leo Yang from 6A, Cici Zhu from 6C, Sherry Liu, Candy Zhou and Michael Jing from 7C, and Emma Xu from 8A. We have been longing to get back to our familiar campus to hold more colorful and interesting school activities.
LSS Online Art Festival
While studying from home, the students had limited painting materials at hand; however, they managed to create art works with the characteristics of SUIS under the guidance of the teachers. Some students drew art works, showing gratitude to medical and social workers under the current wave of the pandemic. Some students took snapshots of the beauty in spring from their unique perspective. Congratulations to the winners!
Art Works Awards
First Prize
7C张晴华Queenie,7A奚思绮Annie,7D吴熙然Anthon
Second Prize
8B张衡Francis,6A邹易蓉Maggie,8B刘瀚阳Hanso
Third Prize
6D高婳儿Echo,6A石晓彤Sophia,6A侯稼润Rainie,7D蔺沐妍Tiffan
Anti-pandemic Works Awards——Best Painting
First Prize
6B王卿焱Emma,6B杨懿允Evian,8B张衡Francis
Second Prize
8A周子钰Iris,8B卜家祺Jessica,6C万清雅Amanda
Third Prize
6C牛语今Ena,7A 邱添启Aisha,7C周诗嘉Candy,6A江月嘉Yog
Anti-pandemic Works Awards——Best Photography
First Prize
6B周熙瑶Yoyo,6B费佳音Jennifer,6C刘添羽Dave
Second Prize
6B王卿焱Emma,7A徐朗乔Sophia,7D项政源Aiden
Third Prize
6B周庭逸Fre
Original Works of Art Awards
First Prize
7D刘奕钧Alma,7D常诗雯Melody
Second Prize
7C赵衣晨Yiyi,7C李欣玲Lily
Calligraphy (Ink Painting)
Each stroke in calligraphy not only wrote the ancient poems but also expressed the hope for the epidemic coming to an end.
Outstanding Calligraphy Works Awards
First Prize
6D李玥苇Selena,7A吕东隽Antony,8A楼祎飏Evelyn
Second Prize
6C孙嘉沐Mumu,7C金涵悦Yvonne,8C孟子仟Aiden
Third Prize
6A熊一诺Lilian,6B王翌同Rick,6D 于谦之Grace
Recitation
During the period of online learning, the students maintained the good habit of reciting, chanting and perceiving the emotions in literary works. They chose passages they liked from the textbook and recited them with music. Congratulations to the following students!
Excellent Readers
6A
吴宗泽Zongze,侯稼润Rainie,石晓彤Sophia,杨玺霖Leo
6B
熊濯茹Aurora,王昭元Zara
6C
孙承悦Joyce,孙嘉沐Mumu,张炜森Vincent
6D
陆怡霏Sophia,谭伯明Boming
7B
王其姝Emma,任智扬David,
7C
刘子晴Sherry,张嘉宜Deli,周诗嘉Candy,李晗Emma
7D
李嘉媛Anna
8A
曾祎泠Alice,杜庚晓George
8B
金睿扬Sissi
8C
申雅枫Grace,吴易洋Amanda