Psychological well-being is one of SUIS's teaching priorities. Since the outbreak of the epidemic, we have been working on students' mental health by keeping in touch with parents, helping families relieve their anxiety and creating a healthy study atmosphere at home.
In May, we held a Mental Health Month in our campus in order to motivate both students and parents because at this time, students are coming back to school one after another.
图片来源:学校心理角
Adjust yourself (For students)
@Dear students, are you nerous about coming back to school? Do you experience mood swings? Here we have seven steps to direct you to the right path back to our campus.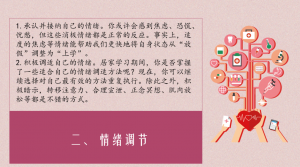 Recommended Book List for students
美国心理学会情绪管理自助读物(全套)
郑渊洁给孩子的励志书
为你自己读书
孩子,先别急着吃棉花糖
窗边的小豆豆
致未来的你
最亲切的情绪课
儿童情绪管理与性格培养绘本(7-12岁)
Attend to the needs of students(For parents)
@Dear parents, are you ready for your children's return to school? Are you confused about how to prepare yourselves and your children? Here we have some advice.
Recommended Book List for parents
Strongly support (From school)
Students can access the mental health support through various channels provided by our school, so that they can adapt themselves to this special situation quickly and safely.
1. Face-to-face counselling services from professional Psychology teachers are open. Students who have any questions or pworries can call the teacher or contact the teacher online.
Phone hotline from our school: 58869990-338
Phone hotline from Pudong District: 4008206235
2. You can also scan the QR code below to find the "Drifting bottles". All your feelings or emotions can be put into the bottles and will be responded by our Psychology teacher very soon.
Returning to the campus and the regular study, all the teachers, students and parents will find that emotion swings are inevitable. We hope the tips above are helpful. On May 25, let's "love ourselves" and take good care of others.
活动策划:LS小学部